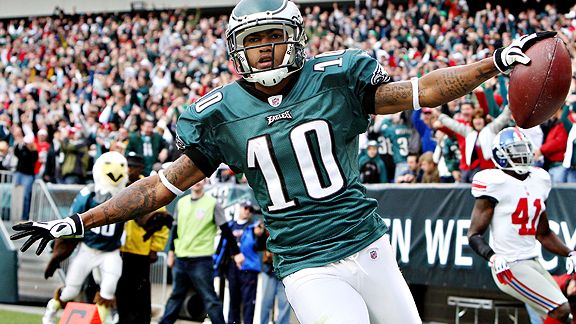 The Washington Redskins landed one of the league's premier playmakers in receiver DeSean Jackson yesterday. Jackson and Washington agreed on a three-year deal worth $24 million, including $16 million guaranteed.
The Redskins didn't have a lot of money to spend, but they were able to get a deal done with a hefty signing bonus.
Jackson makes the Redskins better for sure. He is an explosive player and can run routes both outside and inside. He is a nightmare for defenses. Jackson, along with Pierre Garcon, Andre Roberts and Santana Moss give the Redskins a very good, explosive group of receivers that will almost certainly help Robert Griffin III return to form. That's just the offensive side of the ball. Jackson has proven to be a nightmare for opponents in the return game as well. Yet another upgrade for the burgundy and gold.
An additional point of emphasis is that the Redskins will play division rival Philadelphia two times each season. You know the release did not sit well with Jackson and the fact that Washington has those two guaranteed games against the Eagles had to play a little part in his decision to sign with the Redskins.